Cardio Canine exercisers are professional people who love dogs and know how to handle them; we are athletic, dependable and trustworthy. We love what we do. And we love your dog.

KAYLA WESTERN


After a successful professional career for 25 years, Kayla decided it was time to try something completely different. In 2003 her love of dogs and the outdoors prompted her to take a leap of faith and develop Cardio Canine - a unique company providing a unique service.

A life long athlete, Kayla competed at the Dragon Boat World Championships in 2007 and 2011 with the USA National Dragon Boat Team. Her USA Senior Mixed Team won 5 silver medals in 2011.

Kayla lives in Berwyn with her family, including 2 rescue dogs, Cody and Barkley.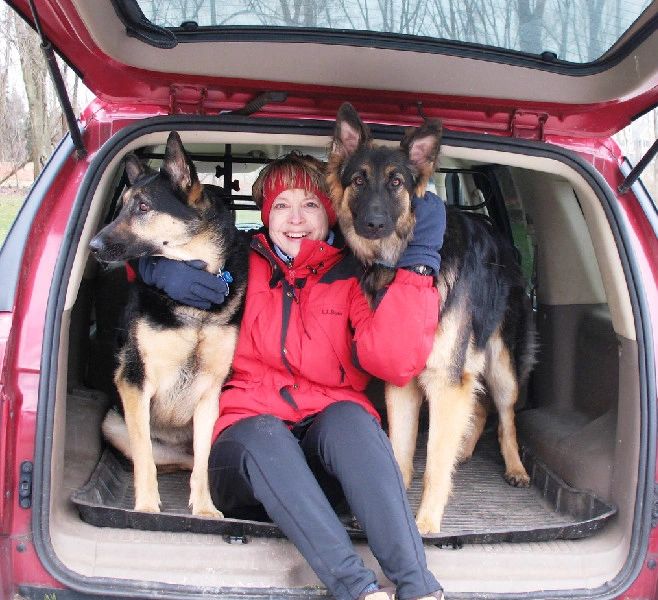 Nala, Kayla and Bella


JUNE GREGORY


June is a real estate agent on the Main Line and lives in Devon. She owns an English Bulldog, Bebe, and a cat named Spencer. June is also a volunteer with Heaven Sent Bulldog Rescue in NJ. She has fostered and adopted many dogs over the years. As a former runner and certified aerobics instructor, being part of the Cardio Canine team fulfills two of her favorite passions; fitness and a love for animals.

(Photo coming!)


VERENA DANON

Verena's background is in graphic design and teaching foreign languages - specifically German. She lives in Radnor with her family which of course includes 2 dogs, Oscar and Otto. Verena is an avid runner and has competed in several marathons. You may spot her out on the roads and in the parks as she runs an average of 40 to 70 miles a week. What could be better than being on the Cardio Canine team and taking your dogs along on a run?!

(Photo coming!)

MARY CHRIS HAMILTON

Mary Chris is a teacher at a local preschool and lives in Berwyn with her family. She has owned dogs all of her adult life - mostly German Shepherds and Labs. She is currently the proud owner of an exuberant black lab, Vader. Mary Chris is an avid outdoor enthusiast and enjoys running, hiking and biking. Combining dogs and fitness as a Cardio Canine team member is perfect for her!


(Photo coming!)